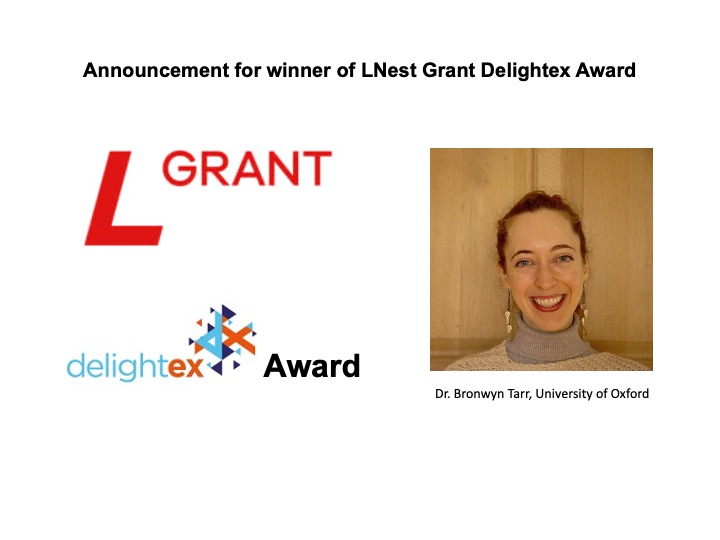 We are happy to announce that we have selected Dr. Bronwyn Tarr from University of Oxford as the winner of LNest Grant Delightex Award.
This time in LNest Grant Delightex award, we accepted the application from 1st June 2020 to 31st July 2020 under the theme of "Research on traditional rituals across the world as well as its effect on humans". We had 11 applications from universities from Singapore, Philippines and UK. Also the varieties of the rituals covered by applicants were wide spread across the world ranging from Africa, Asia, Middle East and South America.
The award screening was done through application documents and interviews with applicants. This time we have selected research theme given by Dr. Bronwyn Tarr who is research affiliate and departmental lecturer of University of Oxford, Institute of Cognitive and Evolutionary Anthropology.Her research focuses on looking at psychological and physiological effects of group movement and traditional dance. From this grant we wish for further collaboration between Dr. Tarr and Delightex.
We strongly believe that by supporting the research of young researchers and by helping them to realize their research ideas, we can solve more social issues around the world.
Leave a Nest will continue to conduct LNest grant in the world and we would also like to collaborate with more industries so we may support more researcher in wide varieties of fields.
Enquiry about LNest Grant Delightex Award:
Leave a Nest Singapore Pte. Ltd.
In charge: Shohei Michael Maekawa
Email: [email protected]